Title
Commander Keen in Goodbye, Galaxy!
Episode V: The Armageddon Machine
Composer
Robert Prince, Gustav Holst
OS
DOS
Sound Chips
Sound Blaster 16/OPL2 (YM3812)
Tracks
16
Playing time
28:59
Pack author
The Green Herring
Pack version
1.00
Last Update
2014-09-19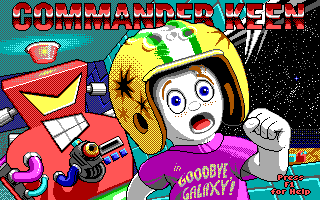 Download

Computers/IBM_PC/Commander_Keen_in_Goodbye,_Galaxy!_Episode_V_-_The_Armageddon_Machine_(IBM_PC_AT).zip
(94 241 bytes)
Pack author's comment
My eighteenth submission! This pack was created at the request of RichterEX2.
Commander Keen in Goodbye, Galaxy! Episode IV: The Armageddon Machine
has more music than the previous episode and thus a less repetitive soundtrack. It's every bit as lighthearted as the previous one, except for a few tracks such as an arrangement of "Mars, the Bringer of War" from Gustav Holst's
The Planets
. This pack also includes an unused track that's included in the data files but never played, and two unused tracks from a .zip file supplied by co-programmer John Romero.