| | |
| --- | --- |
| Title | Commander Keen in Aliens Ate My Babysitter! |
| Composer | Robert Prince |
| OS | DOS |
| Sound Chips | Sound Blaster 16/OPL2 (YM3812) |
| Tracks | 9 |
| Playing time | 11:46 |
| Pack author | The Green Herring |
| Pack version | 1.00 |
| Last Update | 2014-09-19 |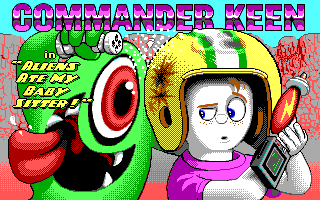 Download

Computers/IBM_PC/Commander_Keen_in_Aliens_Ate_My_Babysitter!_(IBM_PC_AT).zip
(47 272 bytes)
Pack author's comment
My nineteenth submission! This pack was created at the request of RichterEX2.
Commander Keen in Aliens Ate My Babysitter!
is the final game in the series, and sadly the one installment you can only buy secondhand thanks to a bit of legal entanglement. Robert Prince continues to give the series the funky and whimsical sound it's known for.