Since I have these 2 roms of Ivan YO's Jukebox, I've decided to share with you with these VGM rips. This is what I do when I usually have free time.
Don't worry, I'll update this post, and add some of Ivan YO's works, if i have free time to do it.
Track 93 was logged on Kega Fusion 2 years ago.
Castlevania 3 Beginning was deleted on my local disk since 4 years ago.
Total tracks I've trimmed: 1
IYJB2:
93 Jazz Jackrabbit 1 - Bonus
-.
IYJB3:
-.
_________________
To-Do list:
Rip all Dooyong Games.
Make k005289.c and k007232.c thru libvgm.
Tempo: 105.95%
Pitch: +1.00
suprise is surprise, ok?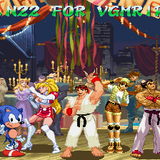 Please, check my WIP list for more updates.