| | |
| --- | --- |
| Title | Vampire Hunter 2: Darkstalkers Revenge |
| Composer | Tetsuya Shibata |
| System | CP System II |
| Sound Chips | Q-Sound |
| Tracks | 6 |
| Playing time | 1:30 |
| Pack author | kirishima |
| Pack version | 1.01 |
| Last Update | 2016-07-15 |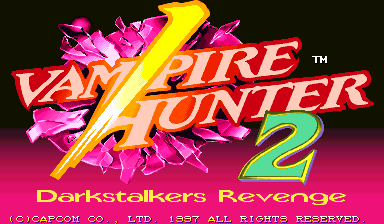 Download

Arcade/Capcom/Vampire_Hunter_2_-_Darkstalkers_Revenge_(CP_System_II).zip
(644 298 bytes)
Pack author's comment
Only contains tracks exclusive to Hunter 2.
As said for Savior 2, I had these games already ripped for a some time but wasn't sure how to share them since most of the music from both games came from the earlier titles I already ripped.
Both Vampire Hunter 2 and Savior 2 are technically the same game. However due to the return of Donovan, Pyron, Huitzel/Phobos plus the limited memory of the CPS2, certain members from the original Savior cast got the boot to make room. For Hunter 2, it was most of the new characters introduced in Savior (Lilith still mostly existed for one reason or another), whereas in Savior 2 it was Gallon/J. Talbain, Aulbath/Rikuo, and Sasquatch that were axed. The other big difference between the two are the soundtracks with Savior 2 keeping most of Savior's soundtrack, and Hunter 2 getting Hunter/Nightwarriors' soundtrack.
Really should've added the above to the read me...