Title
Lethal Enforcers II: Gun Fighters /
Lethal Enforcers II: The Western
Composer
Yuichi Sakakura, Tsuyoshi Sekito
System
Konami GX
Sound Chips
2xK054539
Tracks
22
Playing time
28:14
Pack author
The Green Herring
Pack version
1.00
Last Update
2014-12-31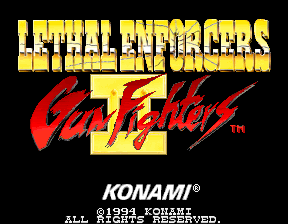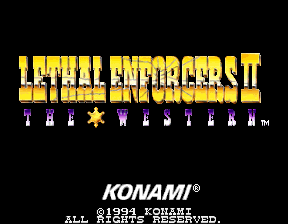 Download

Arcade/Konami/Lethal_Enforcers_II_-_Gun_Fighters_(Konami_GX).zip
(6 643 924 bytes)
Pack author's comment
My twenty-fifth submission!
Lethal Enforcers II: Gun Fighters
/
Lethal Enforcers II: The Western
is the sequel to a
game
whose pack I submitted as my first pack on this site two years ago on the same day (December 8). This light gun game moves the action from modern-day Chicago to the Wild West, with a completely different soundtrack to accompany it. While we don't know for sure who the composers were and there's no official soundtrack release either, this is a nice Western-themed soundtrack recommended for everyday listening.