| | |
| --- | --- |
| Title | Sengeki Striker |
| Composer | Yukihiko Murabayashi |
| System | Super Kaneko Nova System |
| Sound Chips | YMZ280B |
| Tracks | 12 |
| Playing time | 8:41 |
| Pack author | RN22 |
| Pack version | 1.00 |
| Last Update | 2022-11-04 |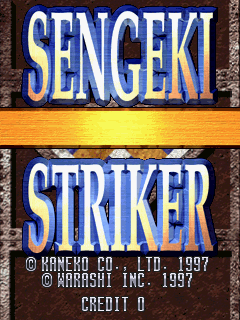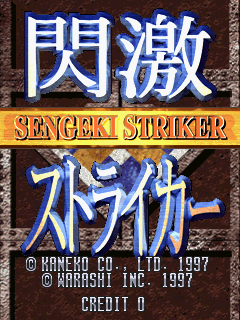 Download

Arcade/Sengeki_Striker_(Super_Kaneko_Nova_System).zip
(3 234 022 bytes)
Note
This VGM pack uses ADPCM streams to play the musics, and seeking does not work properly.
Pack author's comment
A 1997 Shmup game made by Warashi and published by Kaneko. Unfortunately, the music tracks of this VGM pack is different than the original arcade version of the game, where they cutted the musics early.
Also, thanks to BoxCubed for helping me out what's the cause.
My first VGM rip using YMZ280B sound chip.