| | |
| --- | --- |
| Title | Data East's Stadium Hero '96 |
| Composer | Hiroaki Yoshida |
| System | Deco MLC System |
| Sound Chips | YMZ280B |
| Tracks | 14 |
| Playing time | 4:02 |
| Pack author | RN22 |
| Pack version | 1.00 |
| Last Update | 2022-11-11 |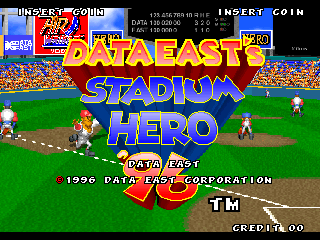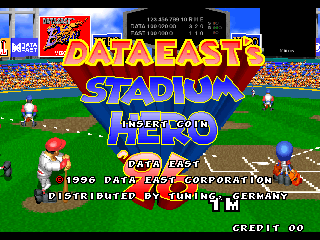 Download

Arcade/Data_East's_Stadium_Hero_'96_(Deco_MLC_System).zip
(1 591 788 bytes)
Note
This pack uses ADPCM streams to play, and seeking doesn't work.
Pack author's comment
1996 sequel by Data East. Using 3D-kinda like graphics held by the MLC system.
I think this game is much better than the 1988 game.
Track 14 might be similar to Track 04, but I don't think i've ever heard this track in-game.