| | |
| --- | --- |
| Title | Shantae |
| Composer | Jake Kaufman |
| System | Nintendo Game Boy Color |
| Tracks | 41 |
| Playing time | 42:39 |
| Pack author | The Golden Horse |
| Pack version | 1.00 |
| Last Update | 2020-02-09 |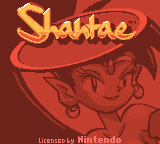 Download

GameBoy/Shantae_(Nintendo_Game_Boy_Color).zip
(328 756 bytes)
Pack author's comment
From the ashes of the commercial failure of
Project S-11
, a game that barely made it out in North America at all, comes the soundtrack of
Shantae
, which uses its sound engine for a soundtrack suited to its Arabian Nights theme. It's little wonder that this soundtrack has been remixed many times since! Highly recommended listen and not just for Game Boy chiptune fans!
This pack includes not just the full soundtrack but also two versions of the musical cues for Shantae's dances: the versions as heard in-game; and the versions stored in the music data, which last longer but end on hanging notes. The latter are not included in the playlist as the former are how the dance music is meant to be heard. The notes/comments box for each song also includes its internal ID as listed in the "M!" music menu accessible from
the game's debug mode
. Note that some songs are duplicated, and not every ID matches the context in which the song is used (see: "Burning Town", "Day Travel 2", "Escape from Tinkerbat Factory").