| | |
| --- | --- |
| Title | Metal Gear 2: Solid Snake |
| Composer | Konami Kukeiha Club |
| System | MSX2 |
| Sound Chips | PSG (AY-3-8910), SCC (K051649) |
| Tracks | 48 |
| Playing time | 1:11:07 |
| Pack author | The Green Herring |
| Pack version | 1.02 |
| Last Update | 2018-10-09 |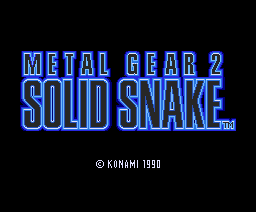 Download

Computers/MSX/Metal_Gear_2_-_Solid_Snake_(MSX2).zip
(1 197 711 bytes)
Pack author's comment
My fiftieth submission is none other than the true sequel to
Metal Gear
, which transcended the original in many ways, including in the music department. With the composers pulling out all the stops on one of the last MSX2 games officially released, the result is an all-time classic soundtrack. A recommended listen!
NOTE:
The tracklist is arranged (and in some cases, named) differently from the official soundtrack, as
the album
contains a number of
documented
errors in track labeling (including, in two cases, swapping song titles).