Title
The King of Fighters 2000
Composer
Hideki Asanaka, ZOE, MARIMO,
USAKO-X, Yasuo Yamate
System
SNK Neo Geo
Sound Chips
YM2610
Tracks
33
Playing time
84:49
Pack author
The Green Herring
Pack version
1.00
Last Update
2014-10-29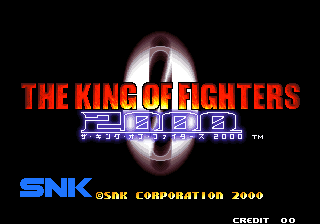 Download

NeoGeo/The_King_of_Fighters_2000_(Neo_Geo).zip
(12 450 597 bytes)
Pack author's comment
My twenty-first submission! The seventh game in SNK's longest-running series,
The King of Fighters 2000
was the last to be produced before the old SNK went under. Thus, they went all out not only with references to their history but also with the soundtrack, which has an incredible rock sound with great sample quality as well as a pair of unique boss themes. This is recommended listening for any occasion!