| | |
| --- | --- |
| Title | The King of Fighters 2002: Challenge to Ultimate Battle |
| Composer | Yasuo Yamate, Masahiko Hataya |
| System | SNK Neo Geo |
| Sound Chips | YM2610 |
| Tracks | 32 |
| Playing time | 1:12:30 |
| Pack author | The Green Herring |
| Pack version | 1.00 |
| Last Update | 2016-04-12 |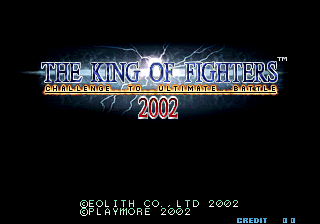 Download

NeoGeo/The_King_of_Fighters_2002_-_Challenge_to_Ultimate_Battle_(Neo_Geo).zip
(8 293 161 bytes)
Pack author's comment
My twenty-eighth submission. Still under Eolith's ownership and with the ongoing storyline concluded in
2001
,
The King of Fighters
received a new "dream match" game that had a little more of a budget—but not much. While there was now enough money for loops more than 30 seconds long, there wasn't enough for good instrumentation and the remixes found in the soundtrack suffer for it especially. However, most of the original stage music is decent, even if they're not as good as the music in the pre-bankruptcy games.
Like
2001
, this pack is here because having a complete selection of VGM packs for the Neo Geo
King of Fighters
games requires a pack for this game. Fortunately, at least the soundtrack's better than last time.