Title
Ninja Master's /
Ninja Master's: Haou Ninpou Chou
Composer
Hiroaki Kujirai, Hiroaki Shimizu,
Yuka Watanabe, Takeshi Muramatsu
System
SNK Neo Geo
Sound Chips
YM2610
Tracks
36
Playing time
56:41
Pack author
The Green Herring
Pack version
1.00
Last Update
2017-09-28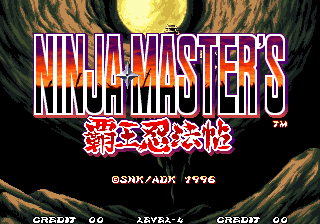 Download

NeoGeo/Ninja_Master's_(SNK_Neo_Geo).zip
(5 562 393 bytes)
Pack author's comment
My thirty-seventh submission is for one of only two ADK fighting games that aren't
World Heroes
games (the other is
Aggressors of Dark Kombat
).
Ninja Master's
[
sic
] is a weapon fighting game
à la
Samurai Shodown
about Japanese warriors trying to stop
Oda Nobunaga
from taking over the world, and unlike its inspiration, it has quite the dark, serious mood. This is reflected in the atmospheric soundtrack, courtesy of synth recordings and traditional Japanese instruments. A strongly-composed soundtrack worth listening to!